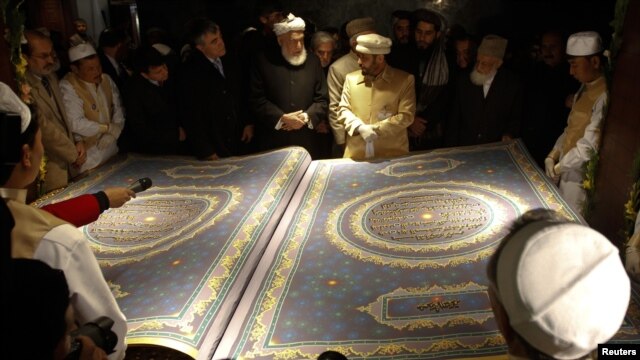 A
n Afghan calligrapher has created what is being billed as the world's largest Koran.
The ambitious project has been heralded in Afghanistan as a historic achievement, and potentially eclipses another massive Koran unveiled just two months ago.
Mohammad Sabir Khedri, the master calligrapher behind the Afghan project, spent five years working with nine of his students to complete the Koran, which measures 2.28 meters by 1.55 meters.
Khedri, speaking described the venture to RFE/RL's Radio Free Afghanistan as the most difficult, but rewarding, in his life.
"This idea was a spiritual move to be closer to the path of God," Khedri said. "I have tried with all my heart and soul to reach this goal. Doing the calligraphy for the holy book has been the biggest challenge in my life."
http://www.rferl.org/content/afghan_makes_worlds_biggest_koran/24454258.html